Have a team of employees that need to learn more about Microwave, RF and wireless systems, or need a great refresher class or technical training? Singer Executive Development offers technical training for the RF, microwave antenna, wireless and other high-tech industries. Our founder, Andy Singer, spent a significant portion of his career in the wireless telecom industry. Our goal is to continue to expand our course offerings to support companies in wireless and high-tech industries. Current courses are:
– Microwave Antenna System Basics, Installation and Alignment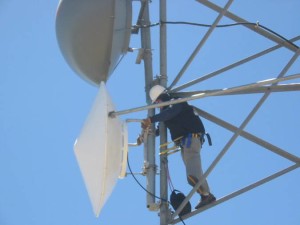 – Microwave Training – Microwave Radio System Training
– RF Safety Awareness Training
– Line Sweeping 101 – Line Sweep Training
– Mobile Wireless and Cellular Communications Training
– Executive Fiber – Understanding Fiber Optics
– Driving Successful Product Management & Innovation
– FCC General Radiotelephone Operator – Basic Electronics & RF Training Course
– Basic Electronics – Extended 4.5 day training on Basic Electronics & RF
Our technical training class are popular for a number of reasons:
We are not a manufacturer, so the training is not biased. We focus on the facts, theory and hands-on skills, not selling you products.
Our training is interactive and we take technical subjects and bring them alive to assure a great experience for your team.
Our training is never a sales pitch, just great technical training.
Our team has a broad spectrum of experience in the wireless telecommunications and other high-tech industries. All technical trainers are degreed electrical engineers as well. Please contact us to discuss how we can support your team with other technical training.
Powerful Training for Maximized ResultsSM