Sales training is one of the most important decisions an executive will make. Sales training, when done effectively, can greatly improve your organization's success. In a world where you are expected to do more with less, Singer Executive Development can help your sales team team perform at higher levels, be more effective and improve selling skills. motivation and bottom line results. In addition to leadership development and executive coaching, we utilize interactive training methods to develop and enhance key executive and employee skill sets at an accelerated pace. Critical areas of training and development we cover include: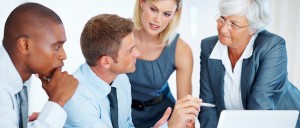 Time Management & Organizational Skills
Sales Training including Selling 101, Selling on Value & Solution Based Selling
Presentations & Public Speaking Skills
Enhanced Negotiation Skills
Customer Service Excellence
Product Management Boot Camps
Sales training and these other associated areas of training, can greatly enhance the effectiveness of your sales & marketing team. When clients reach out to us, they seek our expertise to help resolve a business challenge. Two of the most common challenges are firstly, a realization that a sales team is mostly comprised of account managers that "take orders." There is a lack of experienced "sales hunters" that are proven business development professionals. Secondly, that their sales team has not developed the skills to sell on value. Instead they sell on price, which results in significantly lower margins than would otherwise be obtainable. Imagine the return on investment when you resolve these two challenges across most of your sales team. The results can be truly transformative to your business.
We work with you to provide specific sales training and development programs to accelerate the learning process of your sales team, management team and employees. We can mix specific Singer Executive Development course offerings, or tailor a program specifically for your company's needs, By providing these targeted programs and using accelerated learning methods we assure you and your team achieve peak business performance. An example of the material covered on in our sales training courses can be seen at Sales Training – Selling on Value.
Singer Executive Development can also support, enhance and accelerate the learning and motivation process at your next sales meeting. We can offer any of our training courses at your next sales meeting, provide sales training boot camps, or provide keynote and motivational speeches. It is critical to reinforce your message with trusted outside authorities and Singer Executive Development can be your partner at your next sales meeting assuring a positive and motivational experience for your team.
Think of Singer Executive Development as your business partner, helping you transform your existing assets to become more efficient and effective, leading to motivated employees and business success. Contact us today to learn more about our sales training courses such as Selling on Value and Solutions Based Selling.