Line sweep training – a two day, hands-on line sweeping training and certification course on performing swept-frequency and TDR/FDR testing of transmission lines used in wireless systems and networks. This line sweep training is based on currently popular test equipment, such as Anritsu. Students will learn about measuring VSWR, return loss, distance-to-fault and troubleshooting transmission lines. Students that complete the exercises and pass the final exam, which uses Anritsu equipment, will be certified for line sweeping and receive a certificate.
Line sweep training is done at your facility to minimize down time of your resources. Agenda and course outline for this line sweep training:
DAY 1
RF & Microwave System Basics
RF principles
Understanding VSWR and return loss
Transmission line systems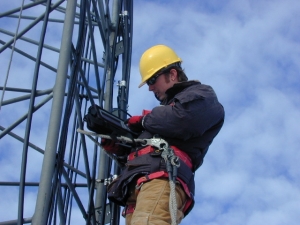 Feed-line characteristics (impedance, attenuation, mechanical, etc.)
Types of feed-lines
Antenna system basics
Connectors
Forward and reflected energy in a transmission line
Swept return loss and distance-to-fault measurements
Typical feed-line issues (crushed, damaged, connectors, etc.)
Line sweeping fundamentals
Commonly utilized products
Understanding basic line sweeping measurements
Calibration and measurement exercises
Accessories
Hints & tips for effective line swept measurements
Measuring return loss exercises
Distance-to-fault exercise
DAY 2
Transmission line system troubleshooting
Line failure types and scenarios
Trace interpretation
Testing antennas, connectors and coax
Software tools
Exercises and exam
Finding shorts, opens, line damage and DTF exercises
Course overview
Final exam
Why Singer Executive Development for line sweep training?
– We are not a manufacturer or distributor, so no sales pitch, just great technical training.
– Course taught by an electrical engineer who has designed antennas and transmission lines with decades of experience.
– Interactive training to assure your team learns the theory and the skills required.
– Unbiased training that focuses on the facts, theory and hands-on skills, not selling you products.
– Certification provided for students that successfully complete the line sweeping final exam.
This course is ideal for RF techs, field techs, installers, system analysts, engineers and other team members that need to perform, or understand line sweeping.  Each student is provided with a binder of all course material. A certificate will be emailed to each student who successfully completes the course and exercises. Line sweeping 1o1 is taught by degreed electrical engineers with decades of experience with antennas and transmission line systems.  Check our testimonials page to see what other students have said about line sweeping 101 and our technical training courses.
Line Sweeping 101 – Hands-On Line Sweep Training