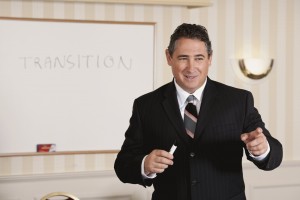 A friend of mine called me recently looking for advice on what to do when sales slow down. Sooner or later anyone in sales will face lean times. Eventually all industries cycle, some just do it faster than others. It's easy to talk yourself into hibernation mode when all you hear is "gloom and doom," but this is exactly what you don't want to do. Stay positive and take action with these seven ideas:
1. Get out there and see your best customers: While you may need to help the corporate cost-cutting program by traveling as efficiently as possible, you do need to get out there and meet with your best clients in person. Purchase plane tickets and a few lunches or dinners. Continue to build those key relationships with your best clients. You will be remembered when things turn-around.
2. Get organized: When times are busy some of us struggle to stay organized. When it's slow, use the time wisely to get yourself organized. Update your contact database, clean your files and update your to-do list. Become the model of efficiency so you can get more done in less time. Now is your chance to become a lean, mean, selling-machine.
3. Get some training: Remember all those classes you thought about taking? It might have been time management skills, presentation skills, selling skills, or anything else you considered, now is your chance. There is no excuse when times are slow and it may be a great networking opportunity. Use this time wisely to sharpen the saw and your competitive edge.
4. Continue to network: This is a great time to go through your contacts and just reach out, reach out and touch someone. Who do you think I'm more motivated to help, the guy who has not contacted me in ten years and calls me the day he looses his job, or the guy who called me twice a year to see what's going on? And yes, some people don't get it. Networking is more than reaching out to potential customers. It's about building your network of people – people who are committed to helping each other through the years.
5. Examine your sales pipeline process: Use this period to have your sales & marketing team conduct a detailed review of your sales pipeline. Determine if you have the stages defined correctly, if you have the proper marketing resources assigned to each stage, if you are capturing enough new leads and most importantly, is your system allowing leads to flow through the stages efficiently. This is also a great time to review your marketing efforts, marketing material and web site to assure there is alignment between the sales and marketing process, message and branding.
6. Work on cost reduction efforts: When times are slow everyone needs to more creative with cost reduction efforts. During the slow times it can be far easier to achieve cost reductions, as suppliers are more willing to work with you.  Review your monthly expenses and be sure that each expense is either essential, or is an investment that offers an acceptable return in the future.
7. Help others: When it's slow you should have more time than ever to help others. Maybe it's a former co-worker that needs some advice. Maybe it's an old friend that needs a favor. Maybe your local blood bank or food bank could use your help. Take this time to give back. It's the right thing to do and will help keep you motivated and positive.
By staying motivated and working harder than the rest, you and your company will achieve more than those that choose to hibernate. There is a greater probability of taking market share when times are slow. Keep that point in mind as you stay motivated, prepare for the upturn and take market share from the competition.